Curriculum
Our curriculum is based around the National Curriculum 2014.
Overview
The national curriculum is a set of subjects and standards used by primary and secondary schools so children learn the same things. It covers what subjects are taught and the standards children should reach in each subject.
Follow this link to the Department of Education website.
Please use the links below to find out what our children will be taught.
Our Curriculum
Curriculum Statement
At Romanby School we have carefully designed our curriculum to ensure that it is enriched with engaging, purposeful and quality learning experiences.  Our curriculum provides broad and balanced opportunities which aim to drive a life-long love of learning as well as positive learning behaviours which help our children to grow as individuals as well as learners.
Like all maintained schools when children join us in Reception they follow the Early Years Foundation Stage Curriculum. Every child in Key Stage One and Two then accesses a curriculum which enables them to develop interest, skills, knowledge and understanding in both the core and foundation subjects of the Primary National Curriculum.
We also recognise the need for a broader curriculum which allows our children to access knowledge and experience of the wider world so that they develop and possess the building blocks essential for becoming successful adults in the world in which we live today.  We are driven towards helping them to make a positive contribution to their local community and the wider society, live healthy lifestyles, be moral citizens and take opportunities to extend their horizons.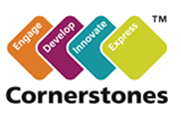 We use the Cornerstones Curriculum 22 model to help us achieve this aim. We have adapted this concept-led curriculum, informed by the latest evidence from cognitive science, and mapped to the Primary National Curriculum to ensure comprehensive coverage of national expectations.
It is based on a child-centred pedagogy called The Four Cornerstones and is delivered through Imaginative Learning Projects (ILPs) and Knowledge Rich Projects (KRPs), which provide a rich menu of exciting and motivating learning activities that make creative links between all aspects of children's learning. We believe children learn better when they are encouraged to use their imagination and apply their learning to engaging contexts. Our curriculum provides many learning challenges throughout the academic year that require children to solve problems, apply themselves creatively and express their knowledge and understanding effectively. Children progress through four stages of learning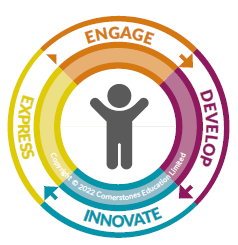 Cornerstones also provide a rigorous skills and knowledge framework that outlines the end of year expectations in all subjects. These skills and knowledge are tied to activities and are age-related so that staff can track children's progress and identify their individual learning needs.
Our focus on curriculum development is carefully designed to ensure coverage and progression as well as providing our children with memorable experiences, diverse and rich opportunities from which they can learn and develop a range of transferable skills. We use our 'Secrets of Success' to raise aspirations, develop positive learning behaviours and attitudes, engender a sense of personal pride in achievement, provide a purpose and relevance for learning and ultimately to help every child to find and develop their own personal strengths and interests.
Our curriculum balances the national expectations and an all-encompassing range of experiences allowing our children to flourish. Clear strategic planning, which is frequently evaluated, allows the curriculum to be dynamic and adapt to the context of the school and children's needs. Our staff value the different ways in which children learn and plan lessons to account for these differences. We encourage teachers to make cross-curricular links where possible within their lesson plans, so that children can draw upon knowledge from different subjects, making connections, and understand how each theme plays a part in everyday life. Age related expectations combine the acquisition of knowledge, understanding and the development of skills to create a purposeful and exciting learning journey for every child.  Teaching and learning of our curriculum encompasses high expectations to combine transferable skills, demonstrate a breadth of vocabulary and develop strong cross curricular links. Quality classroom environments and resources stimulate and promote quality thinking and reasoning while our metacognition work and feedback policy is an opportunity for children to reflect upon their learning and think deeply about how to improve.
Community involvement is an integral part of our curriculum. We engage families and visitors with our children's learning by regularly inviting them in to share learning experiences through open afternoons, assemblies and information sessions.
We provide a variety of extra-curricular activities for pupils that enhance their learning experience. The activities range from after-school clubs, to educational trips and visits. Extra-curricular activities are designed to enhance pupils' learning experience, form personal connections between pupils and their peers, and teach skills essential for life after school.
We use rigorous triangulated monitoring throughout the year to evaluate the impact of our curriculum design. Staff and governors monitor individual subjects: reviewing learning and the impact of teaching, evaluating pupil voice, tracking attainment and progress, celebrating and sharing highly effective practice proven to have an impact upon learning and continuing to improve the impact of the curriculum through highlighting areas of development.
Our whole school team strengthens our ethos and vision as we work together to reflect upon our curriculum and share outcomes which drive forward next steps.   Learning is measured through careful analysis of application of skills across the curriculum; showing how acquisition of knowledge is enhanced by expectations to evidence quality thinking and demonstrate individual understanding. Class teachers and leaders conduct performance analysis linked to triangulated monitoring, measuring performance against individual and school targets.
In addition, we believe that the impact of our curriculum can be seen in our children's learning behaviours and attitudes.  They are becoming increasingly independent, resilient and equipped to face challenges with strategies to overcome problems and make progress.
As well as nationally comparable data, our children also achieve success in the wider aspects of life.  Our children represent the school in county sporting events, take part in community arts and music projects and initiate changes to improve the lives of others.
Due to the curriculum they experience, our children leave us with a broad, rich and deep knowledge.  They are able to transfer the skills that they have mastered into wider contexts and are prepared for the next stages of their education.
It is always good to see how our past pupils flourish in later life and we take pride in knowing that we may have played a small part in helping them to achieve this success.
Long Term Plans
Our Long Term Plans can be found here.  For more detail regarding the each year group please see the Medium Term Plans on the year group pages.
Art
We aim to develop children's curiosity in, respect for and connection with the arts by introducing them to a broad range of techniques, materials, artists, craftspeople and designers.  By engaging, inspiring and challenging our pupils we strive to develop a life-long relationship with the arts that equips our children with the knowledge and skills to experiment, explore, take risks, invent and create.   
'Art has the role in education of helping children to become like themselves instead of more like everyone else' 
Sydney Gurewwitz Clemens 
British Values and SMSC
Click here to download our SMSC development report
Promoting British Values
The DfE set out its definition of British values in 'Promoting Fundamental British Values as part of SMSC in Schools. November 2014 www.gov.uk/government/publications/promoting-fundamental-british-values-through-smsc.
At Romanby School these values are reinforced regularly in the following ways:
Democracy:
Pupils have the opportunity to have their voices heard through class discussions and the Rights Respecting Ambassadors. The Rights Respecting Ambassadors meet every week and can bring issues raised during class time for discussion. The Council have considered school wide issues from behaviour and the Anti-Bullying Policy to arranging Comic Relief events. Responses are fed back to teachers who ensure appropriate adjustments are made where agreed and reasoning for non-action is explained. Election of the Rights Respecting Ambassadors is rigorous and includes voting by all pupils.  Democracy is evident in all classes, including EYFS where the children vote for their choice of story.
The Rule of Law:
The importance of laws or rules whether they are those that govern the class, the school or the country, are consistently reinforced throughout the school day. Pupils are taught the value and reasons behind laws and rules, that they govern and protect us, the responsibilities that this involves and the consequences when laws or rules are broken – as identified in the yellow and red card system of reinforcing positive behaviour. Visits from authorities such as the Police and Fire Service are parts of our calendar and help reinforce this message.  We have now been awarded the silver Rights Respecting Schools Award.
Individual Liberty:
Within school, pupils are actively encouraged to make good choices, knowing that they are in a safe and supportive environment. As a school we educate and provide boundaries for young pupils to make choices safely, through our provision of a safe environment and empowering education. Pupils are encouraged to know, understand and exercise their rights and personal freedoms and are advised how to exercise these safely, for example through our E-Safety and PSHE lessons. Whether it is through choice of challenge, or of participation in our extra-curricular clubs and opportunities, pupils are given the freedom to make choices.
Mutual Respect:
An important aspect of our school ethos and behaviour for learning has revolved around demonstrating respect for the rights of others as well as appreciating alternative opinions, backgrounds and cultures. The school ethos, work on Secrets of Success and relevant policies in practice all endorse this principle.
Tolerance of those of Different Faiths and Beliefs:
This is achieved through enhancing pupils understanding of their place in a modern British culturally diverse society and by giving them opportunities to experience such diversity. Assemblies and other acts of collective worship are delivered and discussions about prejudice and prejudice-based bullying are encouraged across the curriculum wherever the opportunity presents itself but are especially supported by learning in RE and PSHE.  Curriculum work and educational visits also help to support children in developing their understanding of this area e.g. London residential visit including Houses of Parliament Workshop, Cornerstones Imaginative Learning Projects, BIG RE Day.
Computing
All classes have access to a range of iPads, Chromebooks and interactive panels within their classrooms which are directly linked to our school network.  The children have carefully monitored access to the internet via our network as well as the use of a wide library of software.  They also have access to secured online subscribed websites for the enhancement of further learning such as Times Tables Rockstars or Education City.  Additionally, children are given lessons on digital literacy (formerly known as e-safety) regarding how to behave appropriately on all electronic communication devices and how to report any problems in school and at home.
We teach Computing as a discrete subject to teach skills in the main areas of programming, information technology and digital literacy as well as encouraging our children to use and apply their Computing skills across all other subjects.  Our aim is to provide children with the skills to live in the 21st century as Digital citizens and we are constantly up-dating our facilities to ensure our children have access to the best technology and resources.
Design and Technology
Design and Technology is an inspiring, rigorous and practical subject. Using creativity and imagination, children design and make products that solve real and relevant problems within a variety of contexts, considering their own and others' needs, wants and values. They acquire a broad range of subject knowledge and draw on disciplines such as mathematics, science, engineering, computing and art. Children learn how to take risks, becoming resourceful, innovative, enterprising and capable citizens. Through the evaluation of past and present design and technology, they develop a critical understanding of its impact on daily life and the wider world. High-quality design and technology education makes an essential contribution to the creativity, culture, wealth and well-being of the nation.
The National Curriculum for design and technology aims to ensure that all children:
develop the creative, technical and practical expertise needed to perform everyday tasks confidently and to participate successfully in an increasingly technological world
build and apply a repertoire of knowledge, understanding and skills in order to design and make high-quality prototypes and products for a wide range of users
critique, evaluate and test their ideas and products and the work of others
understand and apply the principles of nutrition and learn how to cook
English
English has a pre-eminent place in education and in society. A high-quality education in English will teach pupils to speak and write fluently so that they can communicate their ideas and emotions to others and through their reading and listening, others can communicate with them. Through reading in particular, pupils have a chance to develop culturally, emotionally, intellectually, socially and spiritually. Literature, especially, plays a key role in such development. Reading also enables pupils both to acquire knowledge and to build on what they already know. All the skills of language are essential to participating fully as a member of society; pupils, therefore, who do not learn to speak, read and write fluently and confidently are effectively disenfranchised'
National Curriculum for English
We aim to teach our children to use language as effectively as they can in a wide variety of situations, as laid down in the National Curriculum.  They will be introduced to many types of literature including fiction, non-fiction and poetry and will be encouraged to read widely.  Our aim is that all our pupils will be able to:
Write interesting sentences which make sense and are correctly punctuated.
Watch, respond to and take part in a performance.
Enjoy listening and responding to a wide variety of stories and poems, articulating their reasons and opinions about it.
Read for pleasure and for information, with increasing understanding, demonstrating some inferential skills.
Experience creative ownership of their work.
Experience and experiment with a wide range of genre.
Provide opportunities to read and write materials of personal interest to pupils.
We use the Cornerstones Learning Projects as vehicles to experience English 'in context' through a topic-based approach to teaching and learning. Through high-quality texts and the Talk4Writing model, we aim to engage all pupils so they progress in both the national curriculum standards and developing English 'life skills'.
Reading 
As a school we use 'Essential Letters and Sounds' as the main resource to teach phonics in Key Stage 1 (See Phonics and Early Reading section). We teach reading through whole class guided reading sessions and enjoy texts together in small group 'book clubs'. We also have a class text linked to our theme which we read per term. 
Phonics and Early Reading

Essential Letters and Sounds
Essential Letters and Sounds (ELS) is our chosen Phonics programme. The aim of ELS is 'Getting all children to read well, quickly'. It teaches children to read by identifying the phonemes (the smallest unit of sound) and graphemes (the written version of the sound) within words and using these to read words.
Children begin learning Phonics at the very beginning of Reception and it is explicitly taught every day during a dedicated slot on the timetable. Children are given the knowledge and the skills to then apply this independently.
Throughout the day, children will use their growing Phonics knowledge to support them in other areas of the curriculum and will have many opportunities to practise their reading. This includes reading 1:1 with a member of staff, with a partner during paired reading and as a class.
Children continue daily Phonics lessons in Year 1 and further through the school to ensure all children become confident, fluent readers.
We follow the ELS progression and sequence. This allows our children to practise their existing phonic knowledge whilst building their understanding of the 'code' of our language GPCs (Grapheme Phoneme Correspondence). As a result, our children can tackle any unfamiliar words that they might discover.
Children experience the joy of books and language whilst rapidly acquiring the skills they need to become fluent independent readers and writers. ELS teaches relevant, useful and ambitious vocabulary to support each child's journey to becoming fluent and independent readers.
We begin by teaching the single letter sounds before moving to diagraphs 'sh' (two letters spelling one sound), trigraphs 'igh' (three letters spelling one sound) and quadgraphs 'eigh' (four letters spelling one sound).
We teach children to:
Decode (read) by identifying each sound within a word and blending them together to read fluently
Encode (write) by segmenting each sound to write words accurately.
The structure of ELS lessons allows children to know what is coming next, what they need to do, and how to achieve success. This makes it easier for children to learn the GPCs we are teaching (the alphabetic code) and how to apply this when reading.
ELS is designed on the principle that children should 'keep up' rather than 'catch up'. Since interventions are delivered within the lesson by the teacher, any child who is struggling with the new knowledge can be immediately targeted with appropriate support. Where further support is required, 1:1 interventions are used where needed. These interventions are short, specific and effective.
Supporting Reading at Home:
Children will only read books that are entirely decodable, this means that they should be able to read these books as they already know the code contained within the book.
We only use pure sounds when decoding words (no 'uh' after the sound)
We want children to practise reading their book 4 times across the week working on these skills:
                Decode – sounding out and blending to read the word.
                Fluency – reading words with less obvious decoding.
                Expression – using intonation and expression to bring the text to life!
We must use pure sounds when we are pronouncing the sounds and supporting children in reading words. If we mispronounce these sounds, we will make reading harder for our children. Please watch the videos below for how to accurately pronounce these sounds.
At the beginning of each academic year, we will hold an information session for parents and carers to find out more about what we do for Phonics, Reading and English at our schools. Please do join us.
More support for parents and carers can be found here:
https://home.oxfordowl.co.uk/reading/reading-schemes-oxford-levels/essential-letters-and-sounds/  
Phase 2 Pronunciation (vimeo.com)
Phase 3 Pronunciation (vimeo.com)
History
Through History our pupils learn about significant people, events and places from both the recent and more distant past.  They learn about change and continuity in their own area, in Britain and in other parts of the world.  They look at History in a variety of ways, for example from political, economic, technological and scientific, social, religious and cultural perspectives.  They use different sources of information to help them investigate the past both in depth and in overview, using dates and historical vocabulary to describe events, people and developments.  They also learn that the past can be represented and interpreted in different ways. Good use is made of the local environment, which is rich in resources
Children are encouraged to follow their own line of research when finding out about the past and represent their findings in a variety of imaginative ways, such as time lines and fact files.
School visits play a huge part in engaging the children about History as well as supporting and enhancing their learning.
Geography
Pupils investigate a variety of people, places and environments at different scales in the United Kingdom and abroad, including the local area, then find out about different environments and the people who live there.  They also begin to learn about the wider world and carry out geographical inquiry inside and outside the classroom.  Children are encouraged to ask geographical questions and use geographical skills and resources such as maps, atlases, aerial photographs and ICT.
Mathematics
We use the White Rose Maths mastery-based schemes of learning to help teachers create maths lessons that meet all national curriculum guidelines in a fun, inclusive and age-appropriate way. All material is designed to support primary children as they have fun with maths, exploring everything from times tables and number bonds to money and multiplication.
Teaching for mastery
We use a mastery approach to maths teaching. This is a research-driven teaching and learning method that meets the goals of the National Curriculum. 
What does it mean in practice? In summary, a mastery approach… 
Puts numbers first: Our schemes have number at their heart, because we believe confidence with numbers is the first step to competency in the curriculum as a whole.
Puts depth before breadth: we reinforce knowledge again and again.
Encourages collaboration: children can progress through the schemes as a group, supporting each other as they learn.
Focuses on fluency, reasoning and problem solving: it gives children the skills they need to become competent mathematicians.
At the heart of our mastery approach is the Concrete Pictorial Abstract (CPA) approach. Research shows that when children are introduced to a new concept, working with concrete physical resources and pictorial representations leads to a better understanding of abstract concepts. We use CPA throughout our schemes of learning.
Our maths resources help pupils with problem solving and number fluency, by nurturing confidence in mathematical thinking. We don't think any child should be intimidated by numbers. In fact, we think they should be excited by what numbers can help them do.
Modern Foreign Languages
Music
Children participate in a range of musical activities, which include singing, composing and performing using tuned and percussion instruments.  They listen to and discuss a variety of styles of music.  In Key Stage 2 the children are taught by a music specialist.  The school also works collaboratively with other local schools to perform concerts each year.  Children have the opportunity to learn a brass, string or woodwind instruments through the Local Authority Music Service or Music for Schools Foundation.  There are also school clubs for Music which currently includes a choir who last year performed at The Sage.
Personal ,Social, Health, & Citizenship Education (PSHCE)
Physical Education
Children are expected to participate in all P.E. activities.  Throughout their time at Romanby children will have experience of dance, gymnastics, athletics, swimming and outdoor games.  They also take part in outdoor and adventurous activities and have the option to attend a residential centre in Key Stage 2. Together, these promote the children's physical development, an awareness and understanding of the body, the development of skills and imagination and an appreciation of creative performances.  Most importantly, it is hoped that the children will gain enjoyment from physical education and pursue sporting activities outside school, thus promoting a healthy lifestyle.
Throughout the year, all children have the opportunity to represent the school in a range of inter-school sports competitions at all age levels.  This includes: Fundamental Movement events, a Fun Run, Gymnastics and a 'Mini Olympics' at Key Stage 1; Cross Country, Tennis, Hockey, Football, Cricket and Athletics in Year 3 and 4, and further opportunities in these sports as well as Swimming, Tag Rugby, Dodgeball, Tchoukball, Netball and Rounders in Year 5 and 6.  Provision is made in school for team coaching sessions, in addition to regular PE lessons, and most events aim to involve children of all ability levels, with the top performing teams and individuals regularly progressing to Area and County level competitions. 
Religious Education
Religious Education is not a National Curriculum subject but must be taught to all pupils registered at our school. As RE is not nationally determined, the Local Authority must provide an agreed syllabus for us to follow. For us, this is the North Yorkshire Agreed Syllabus of Religious Education 2019-2024 and it is on this that we base our planning and delivery of RE.
RE is concerned with "learning about religion" and "learning from religion" and it is not the practice of this school to preach to or convert the children. The faith background of staff and pupils is respected at all times.
We believe at Romanby School that RE both supports and strengthens what we aim to do in every aspect of school life.
Specifically, RE at our school aims to enable pupils of whatever ability and level of development to:
Acquire and develop knowledge and understanding of principal world faiths practised in Great Britain.
Develop an understanding of the influence of beliefs, values and traditions on individuals, communities, societies and cultures, including the local community.
Develop the ability to make reasoned and informed judgements about religious and moral issues with reference to the teachings of the principal religions.
Enhance their own spiritual, moral, social and cultural development.
Recognise the right of people to hold different beliefs within an ethnically and socially diverse society.
Right to withdraw
Parents of pupils at Romanby School have the right to withdraw their children from all or part of the RE programme. If parents have concerns about their children taking part in RE, they would be asked to first discuss these with the Head Teacher who will discuss the RE programme and teaching methods in greater detail and allow parents to see the materials and resources used. Agreement on alternative provision for the teaching of RE would need to be reached for children withdrawn from the RE programme. Teachers also have the right to withdraw from teaching RE.
Collective Worship
Each day the children take part in a Collective Act of Worship which, in accordance with the Education Reform Act 1988, reflects the broad traditions of the Christian faith, incorporating, amongst other things, song, story and time for prayer/meditation/reflective thought. Themes are drawn from the Christian and other religious traditions supported by themes linked to the Secrets of Success and the UN Convention on the Rights of the Child. Collective Worship at our school is led by the Head Teacher, other school staff and visiting representatives from local churches or other organisations.
We believe that it is very important to learn to respect each other's views and values and our daily collective worship establishes a firm basis for how we live together in our school and in the wider community.
Parents may exercise their right to withdraw their child/children from these activities in respect of their own beliefs and should contact the Head Teacher if they wish to do so.
Rights Respecting Schools Award
As a Rights Respecting School we promote children's rights and put them at the heart of our schools' practice and ethos.  Our curriculum embeds the United Nations Convention on the Rights of the Child wherever possible helping all pupils to realise their potential and be the best that they can be.  We aim to equip children with the information skills and confidence to become aware of the links between the local and the global and to enable them to become active global citizens.  This involves challenging and supporting children to become critical thinkers, developing independent learning skills and learning about their rights and how to respect them.
The children and staff see the importance of rights and understand that they are central to making our school a wonderful place to learn and grow.  A rights respecting school teaches children and young people that they have rights under the United Nations Convention on the Rights of the Child. From this starting point they also learn to respect others rights in all relationships in the community.
The ethos created demonstrates to children the inclusiveness of a rights-respecting school and paves the way to participation in the life of the community. This in turn helps them to learn how to formulate, express and listen to opinions, helping to raise their achievement. This nationwide award scheme promotes the United Nations Convention on the Rights of the Child as the basis for enhancing teaching, learning, ethos, attitudes and behaviour.
Active child participation is a key characteristic of the award. Being involved in the Rights Respecting School Award [RRSA] means your child can be more involved in decisions about how school is run.
This could involve;
Learning from each other through peer education;
Building positive relationships;
Helping to create a school environment where people work together to reduce conflict;
Learning about rights and those of young people all around the world;
Developing understanding about social justice and sustainable living;
Learning to speak and act for the rights of all to be respected locally and globally.
All around the world children are being denied access to basic things like healthcare, education and safe water to drink. Working towards this Rights Respecting school awards will make our children more aware of their rights within the local community and the wider world. Looking at global aspects will make them realise that other people don't always have the same benefits that they do.
To find out more about this award scheme, visit the rights respecting website. www.unicef.org.uk.
Science
Through our Science curriculum we aim to give children the experience of a wide range of practical work as well as developing scientific skills and attitudes.  Science helps children to understand more about the world around them and encourages them to question aspects that they don't understand.  Children are given an awareness of the role and importance of science in everyday life together with a consideration of the part that science has played in the development of everyday items.  Our children are also given the opportunity to consider ways in which living things and the environment need protection.